PROFILE & HISTORY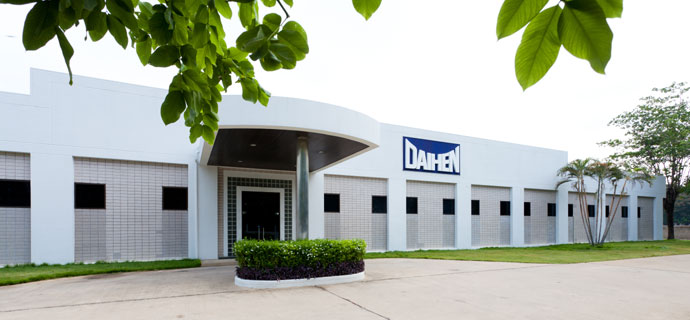 | | | |
| --- | --- | --- |
| | We focus on developing our businesses globally on the three pillars of power transmission & distribution products, advanced components, and welding & mechatronics. | |

DAIHEN Corporation began manufacturing pole-mounted transformers in 1919 by instituting a dedicated mass production system. Subsequently, the company has been enhancing a series of products in order to fulfill the demand of society. Products were incorporated between a high-performance welding machines and electronic technology. This technology was developed from transformer manufacturing as well as several industrial robots and components for semiconductor manufacturing systems, all of which are fueling the growing trend toward automation.
Today, the DAIHEN Group includes 32 companies worldwide, and they are actively working to enhance its global
business while applying its energy renovations and control technologies to the telecommunications and environmental
markets.
HISTORY OF THE OTC DAIHEN ASIA
In 1989, OTC DAIHEN Asia Co.,Ltd. was established for support manufacturing industry. We stand strongly in welding & mechatronic business. Our head office & factory is located in Navanakorn Industrial Estate, Thailand.
Nowadays, technology grows progressively, demand of metal pieces in manufacturing industry is more increased and complicated. According to our principle, Reliability & Creativity - we intend to develop both production and capacity to be more effective. We have initiated create the new innovation, Synchromotion - the communication system for making 2 devices work effectively together by only one controller.
OTC DAIHEN Asia's factory produces a comprehensive of torches & welding machines, exported to all of the world such as; Japan, America, Europe and ASIA, as well as within Thailand. Whilst we are increasing capacity of production in order to respond to the demand which is on the rise in present and future, we are still sustaining our quality because we believe that a high standard of quality should be of primary importance, thereby; our production based on QCD Standard [Q = Quality, C = Lower Cost, D = Delivery on Time]. However; we are always thoughtful and caring in users' safety and our environment. We have realized that the amount of waste from welding procedure harms the world, so new generations of our welding machines are low spatter. We also consider what materials were included in our products have to be the harmless.
More than 20 years' experience that we have stood strongly in running business leaded us to be at forefront brand which has shown the proficiency and trustworthiness that guaranteed by international awards, ISO14001 and ISO9001. That is our pride and joy.
PRESIDENT'S MESSAGE
Sawasdee Krub
We, OTC DAIHEN Asia Co., Ltd., started as a factory for arc welding / plasma cutting torches and their consumables in 1989 at Navanakorn Industrial Estate of Thailand.
Our priority is "customer satisfaction and serving society". Now we do not only manufacture the products ,but also provide sales and after-sales support of OTC-DAIHEN brand arc welding machines, plasma cutting machines and industrial robots.
We are specialist for arc welding and developing the new welding technology continuously. We are proud of the solution provider and support the customers not only in Thailand but also in South Asia countries.
Please contact us if you have any interests in Arc Welding, Plasma Cutting and Robotic Automation in your production process. We have showrooms called "Technical Center" in our Navanakorn factory and sales/service office at Eastern-Seaboard industrial Estate. We are always ready to provide you the welding tests and help you to choose the best solutions for your requirements.
We will continue to make our best efforts to become the company selected by society.
Sawasdee Krub.
Fumiyoshi Kawahara
President